Campbell Crescent heritage and restoration
Campbell Crescent is a significant historical area of Cornwall Park that underwent restoration work from 2017-2020 to continue Sir John Logan Campbell's legacy and vision.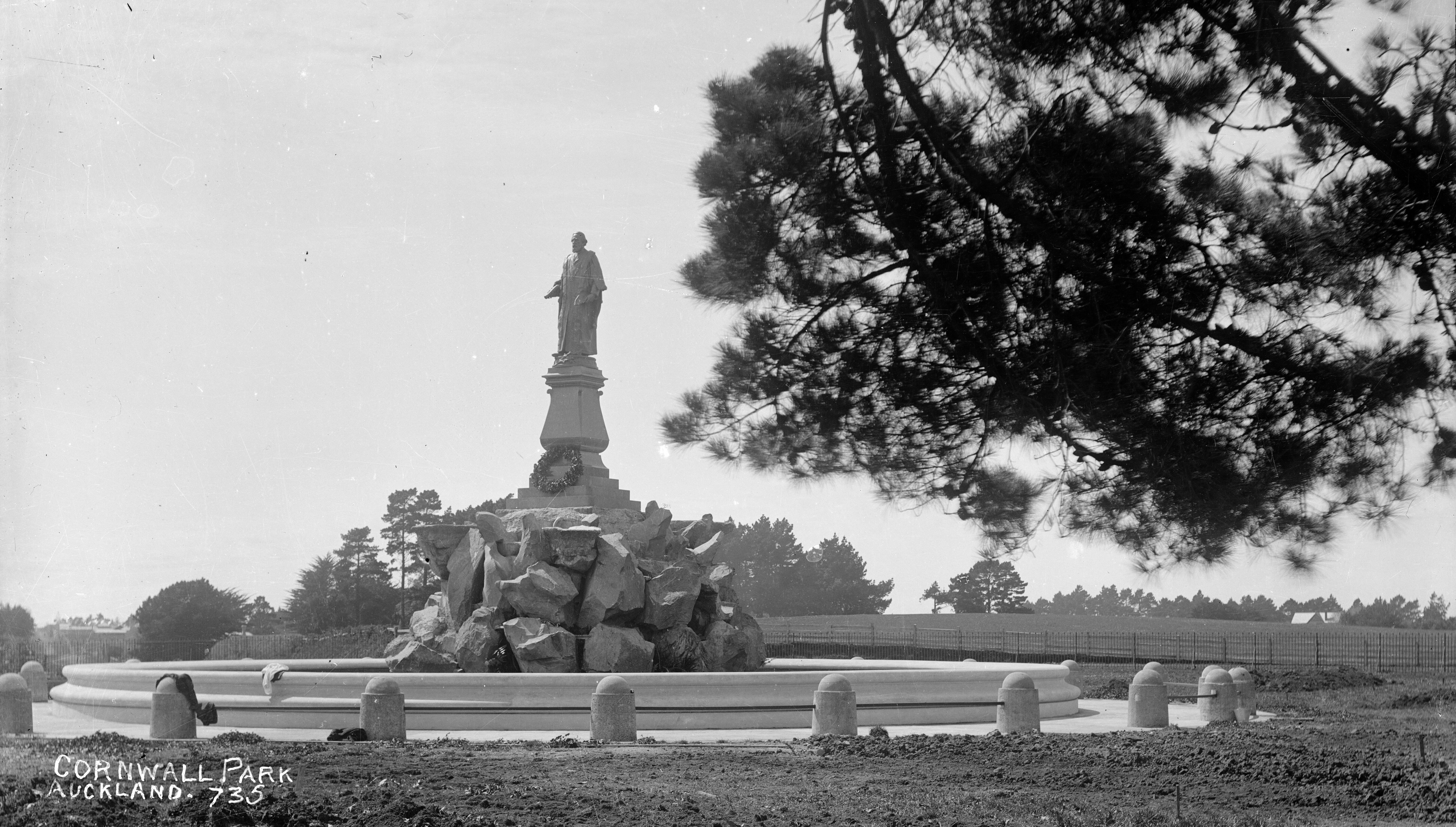 Image: Memorial fountain and statue of Sir John Logan Campbell in Cornwall Park, Auckland. Ref: 1/2-000738-G. Alexander Turnbull Library, Wellington, New Zealand. /records/23187132

About the Campbell Statue and Fountain
Sir John Logan Campbell announced his gift of Cornwall Park in 1901, after he foresaw urban development and wished to protect Cornwall Park as a greenspace for future generations to enjoy. A wave of gratitude swept through the city of Auckland, whose people decided to erect a statue to honour him during his lifetime. The statue was paid for with public subscription as a way to thank Sir John for his great gift to the city and nation – the 1904 version of crowdfunding!
Unveiled in May 1906, the Sir John Logan Campbell statue and fountain was one of Cornwall Park's earliest features to be constructed. The one-and-a-half times life-size statue stands proudly in what is now known as Campbell Crescent, depicting Sir John in his mayoral robes, holding the rolled-up deed to the lands of Cornwall Park in his right hand.

Image: Honouring the "Father of Auckland": A general view of the crowd at the unveiling of Sir John Logan Campbell's Statue at Cornwall Park, Manukau Road, Auckland, May 24, 1906. Ref: Auckland Libraries Heritage Collections AWNS-19060531-10-1

The bronze statue was made in England by British sculptor Henry Pegram, completed entirely from photographs, aside from Sir John's mayoral robes - which were sent all the way to England to make sure the details were just right. The statue sits on the pedestal of highly polished rose-coloured Aberdeen granite with gold lettering inscribed. Both the statue and pedestal took two years to create and ship to New Zealand.
Landscape Design for Campbell Crescent
Creating a suitable site for the statue was an essential part of early work. Focus was on the diversion of Market Road to make the semi-circular "ante-park", a historical landscaping term dating back to the era of Cornwall Park's original design meaning waiting/arrival/entry room.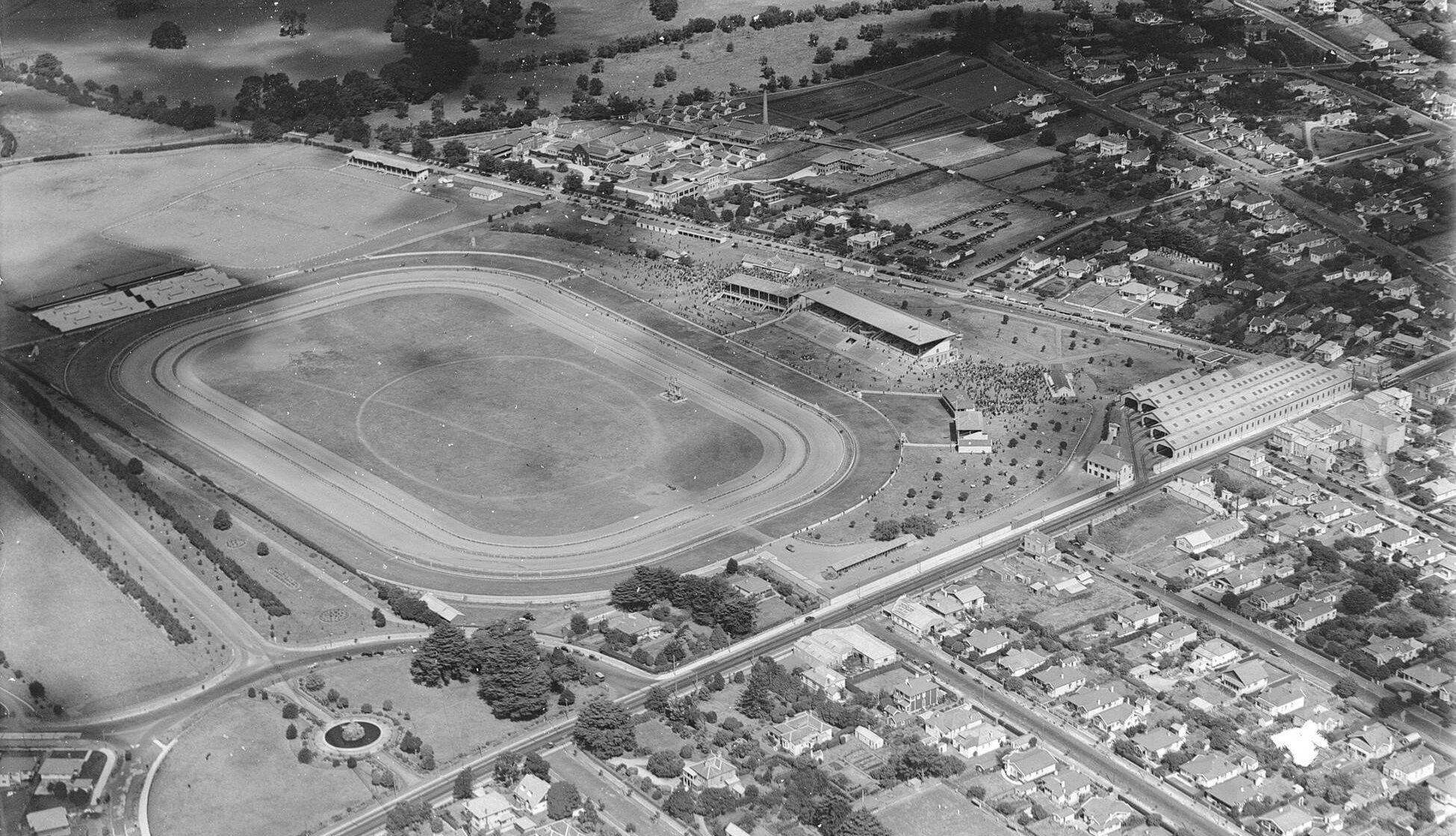 Image: Aerial view of Alexandra Park Raceway, Epsom, ca 1930. Ref: Auckland Libraries Heritage Collections FDM-0419-G
Austin Strong, Cornwall Park's original landscape architect, embodied Sir John's vision and intended the site to be a place of respite from the city, a small park with an open expanse of lawn, announcing a grand park experience to come just beyond the gates. Strong is quoted saying: "I have made a semi-circular ante-park…that sweeps up on either side to the great gates that note the actual entrance to the Park. This ante-park should be quite clear of trees and should always be kept fresh and green so that the lodge and gates above will be silhouetted against the sky line when viewed from the Onehunga Highway….The effect that is produced by this treatment will be as follows: - When the stranger comes from town to visit Cornwall Park, he will naturally take the shortest route from the City… so when he reaches the entrance the effect of the broad and cool expanse of lawn will be refreshing and restful to the eye. He sweeps up from the dusty narrow highway into a large well-kept road which leads him to the mighty gates throughout which he passes into a grand cool avenue of trees."
Transport to Cornwall Park
Campbell Crescent used to be the main entrance way to Cornwall Park, with carriages and horses coming to visit the park often passing through. Even Auckland's first electric tram line, opened in 1902, had a stop right by Campbell Crescent. The tram line went from Auckland Central to Onehunga via Manukau Road, you can still see the tram workshops here today.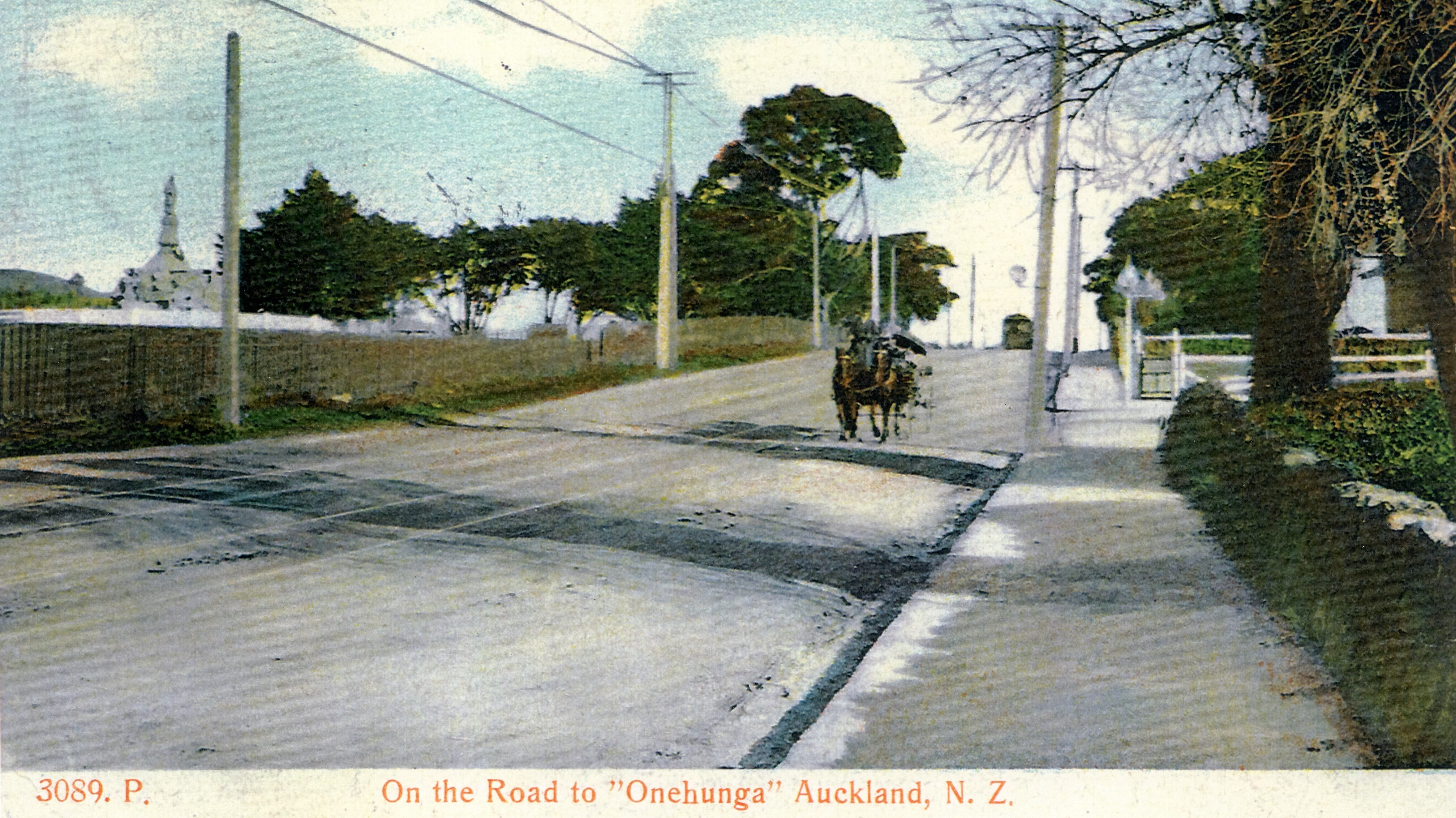 Image: On the Road to "Onehunga" Auckland, NZ. Ref: 'Auckland Libraries Heritage Collections, AHJ-G-186'

1906 Statue Unveiling Ceremony
Some 300 guests attended the Campbell Statue Unveiling Ceremony in Auckland City. Sir John Logan Campbell gave a speech on the day, and is quoted saying "how can I thank you all for your presence here today? We are told that "Out of the fullness of the heart the mouth speaketh"; but there are events in the course of a life when the fullness of the heart cannot find words. I ask you to believe this of me to-day." Sir John Logan Campbell, Unveiling of the statue speech on the 24th May 1906 NZH19060525.2.69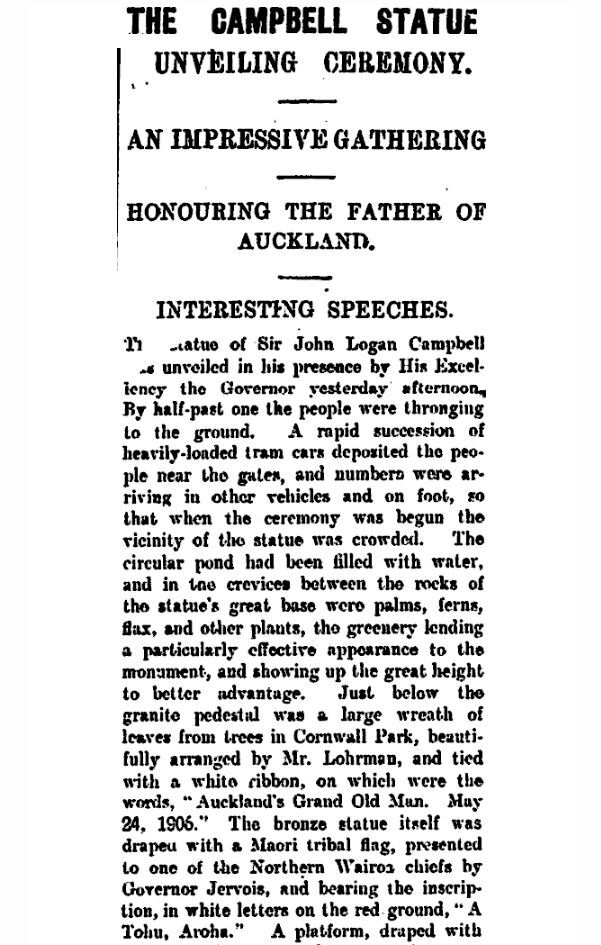 Image: The Campbell Statue Opening Ceremony. An Impressive Gathering, Honouring the Father of Auckland. Interesting Speeches. Ref: This newspaper was digitised in partnership with Auckland Libraries and NZME

The Restoration
The redesign and restoration, initiated in 2017 and completed in October 2020, is one of the first projects from the Cornwall Park Master Plan developed by Nelson Byrd Woltz in collaboration with Boffa Miskell. These improvements sought to restore original splendour, highlighting the visibility and prominence of the Sir John Logan Campbell statue and fountain landmark within the fabric of urban Auckland.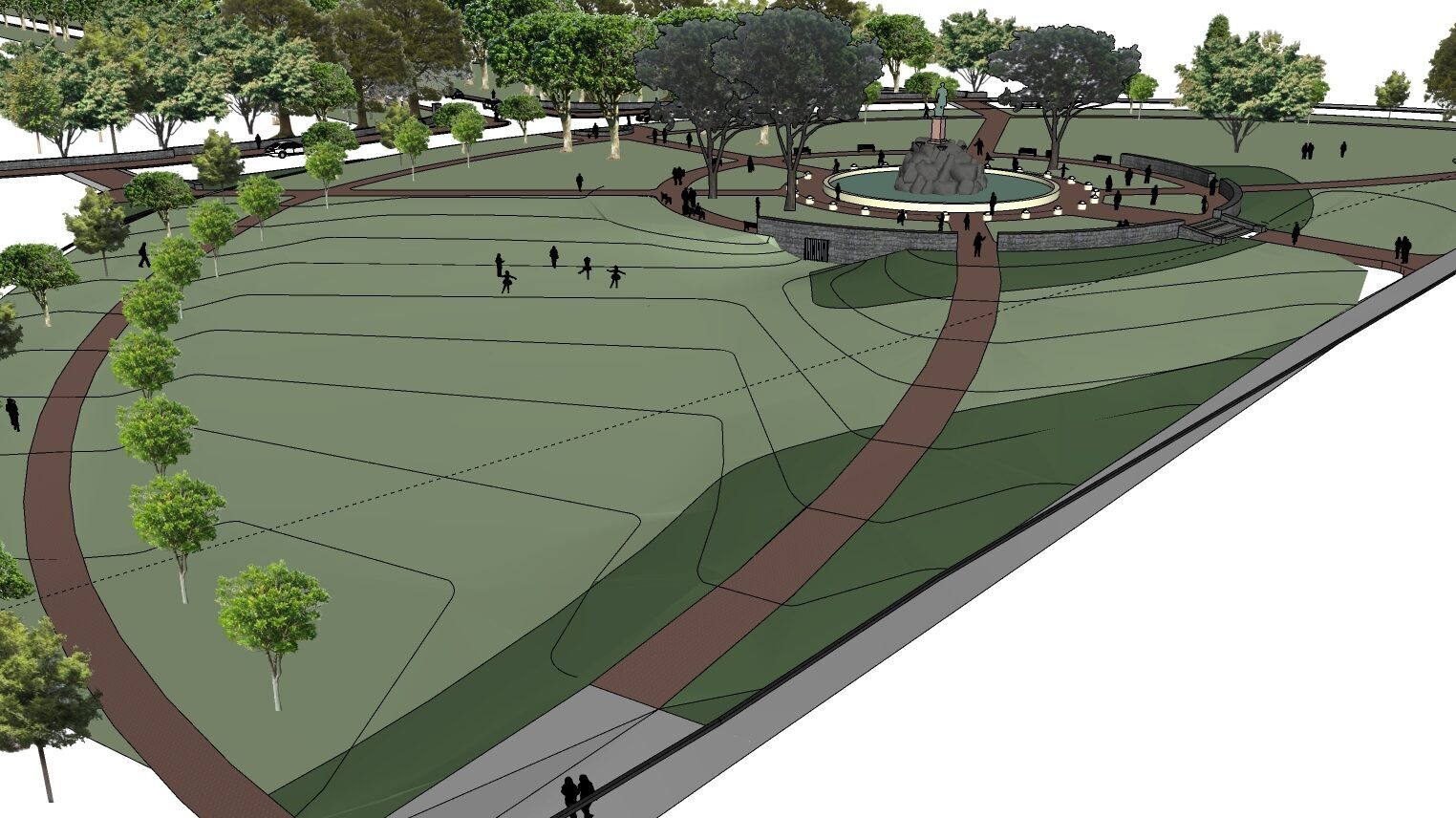 Image: Boffa Miskell 3D Draft Plans 2018

At the time of original construction, the statue stood out as a tall object situated in a landscape of open fields with views in all directions. Over the past 100 years, as the city has grown up around Campbell Crescent, views and access have been compromised and the prominence of the statue and fountain as an entrance to Cornwall Park had been lost.
Visiting the statue and fountain today, you can see the extensive work that has been undertaken to create a space which mimics the purposeful feeling of the space in 1906. Fountain upgrades including original water jet paths have been reinstated, evocative of Auckland's native geology. Further to this, the fountain now runs on 100% recycled water. New heritage lights have been added, and walls and steps constructed from stone, to match the Cornwall Park entrance walls. Widening the paths and bench seating additions has created better accessibility for all people.
New Plants and Trees on the Block
To celebrate the diversity of Native Species which thrive in Auckland, 6000 native shrubs have been planted in surrounding garden beds, including trees, bushes, flowers and mosses. The garden was designed as a biodiversity hotspot for native birds, insects, lizards and lichen. It is a place for you to relax and enjoy New Zealand's native beauty in the heart of Auckland.
Visit Campbell Crescent today to experience the improvements for yourself, and explore one of our most significant heritage sites.