Ecology
what could've been: extinct birds in cornwall park
Over 42% of Aotearoa New Zealand's native birds have become extinct since people first arrived on the land. It's difficult to imagine what was once living here. Still, thanks to the work of archaeologists, historians and iwi, we can learn about these fascinating birds. Read on to learn some exciting facts about three extinct birds that would have likely roamed around this land. It is important to remember what we have lost to protect our feathered friends in the future.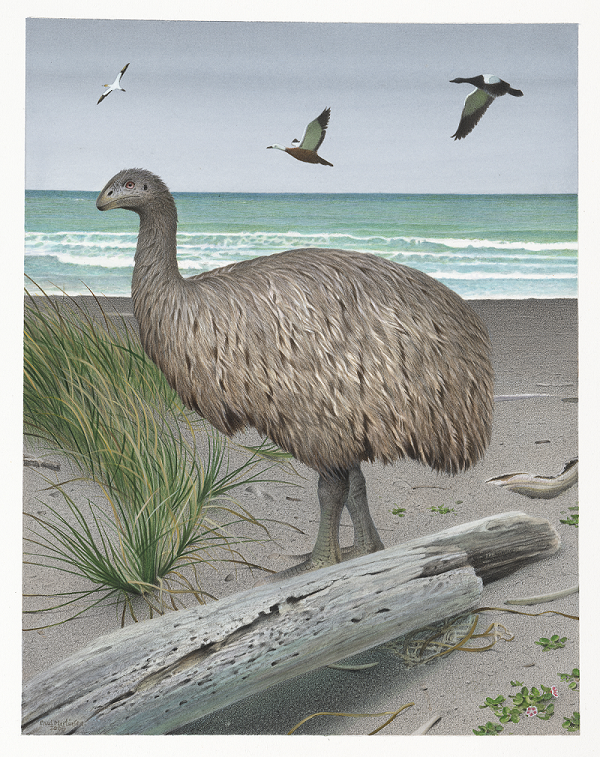 Moa

Our first extinct bird is the moa. Moa were flightless birds that ate a diet based on various plant species, eating all plant parts, including the leaves, branches, fruits and flowers. Some species of moa achieved this diet by using gizzard stones. A gizzard stone is a stone the moa would swallow, and that would sit in their gizzard (a part of their stomach) and help grind up the tougher, woodier bits of plant they ate. A few different moa species would have likely roamed Cornwall Park: the little bush moa, stout-legged moa (pictured above), Mantell's moa, and the north island giant moa. All moa species abruptly became extinct around 1400 due to introduced pests and overhunting.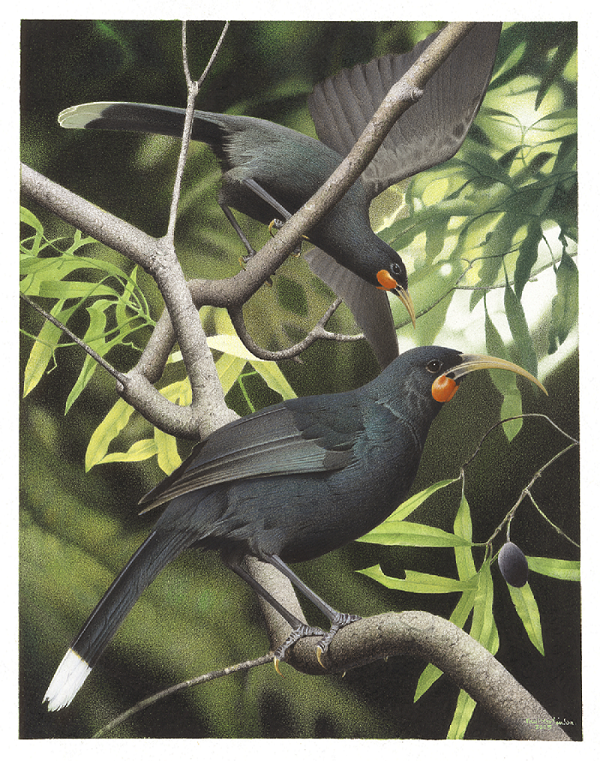 Huia
The next extinct bird is the namesake for Huia Lodge Discovery Hub (link); it's the huia. The huia was sexually dimorphic, the males having a sturdier, straight beak and the females having a longer, curved beak. They would usually hunt in pairs, the combination of their beak shapes allowing them to work in tandem to hunt and gather food. These unique birds became extinct in 1907 after extensive hunting for natural history collections and the fashion industry.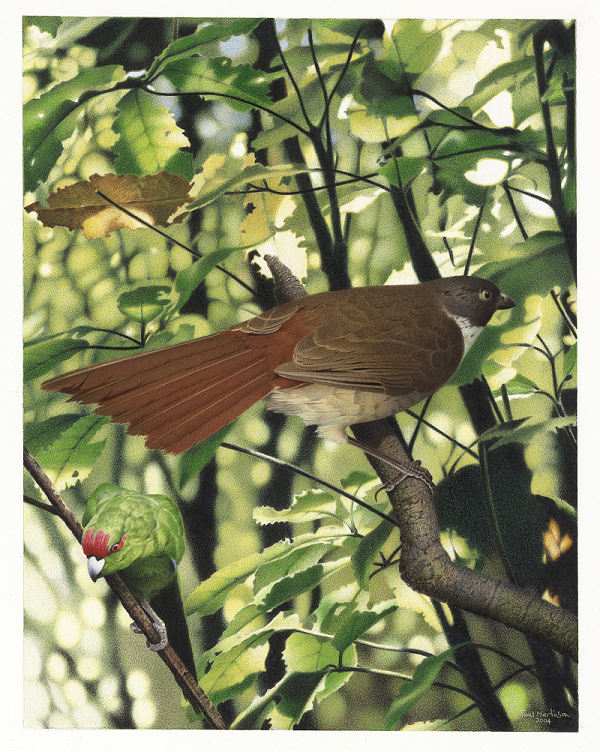 North Island Piopio
The third extinct bird is the North Island piopio, also known as the New Zealand thrush, and previously titled New Zealand's greatest songbird by Sir Walter Buller. The last North Island piopio was sighted in 1949, and the species was declared extinct sometime after. While said to be a little clumsy, these songsters were supposedly able to mimic the calls and songs of other birds, in addition to having their own unique song!
How to Protect Our Feathered Friends

There are many ways to protect our native birds, including managing pests in our gardens. Pests such as rats, mice, stoats, hedgehogs, ferrets, weasels, possums and feral cats are predators of our friendly birds. To help birds stay safe in your garden, try to monitor possible pests around the area. You might notice bite marks on plants and fruits, droppings or footprints on the ground, all signs that predators may be living in your garden. Use traps, chew tags and tracking tunnels to help monitor and control predators in your garden and play a valuable role in keeping our feathered friends safe.

You can also download our bird brochure and learn about more than 30 species of birds that visit and live in Cornwall Park today.