Discover
discover cornwall park in a day
Have you ever wanted to experience a capsule of Aotearoa's beauty in the heart of Tāmaki Makaurau Auckland? You don't even need to think about what you're going to do, because we've created the perfect day at Cornwall Park for you! Pop on your best walking shoes, grab a water bottle and slop on some sunscreen and venture into Cornwall Park.
Olive Grove
Start your day in the peaceful Olive Grove, a piece of Italy in the heart of Tāmaki Makaurau Auckland. Situated partway up the road to the summit of Maungakiekie, the Olive Grove was planted in the 1870s and has remained here ever since. While the number of olive trees has shrunk from the original 5000 planted to the 200 present today, the view is still stunning.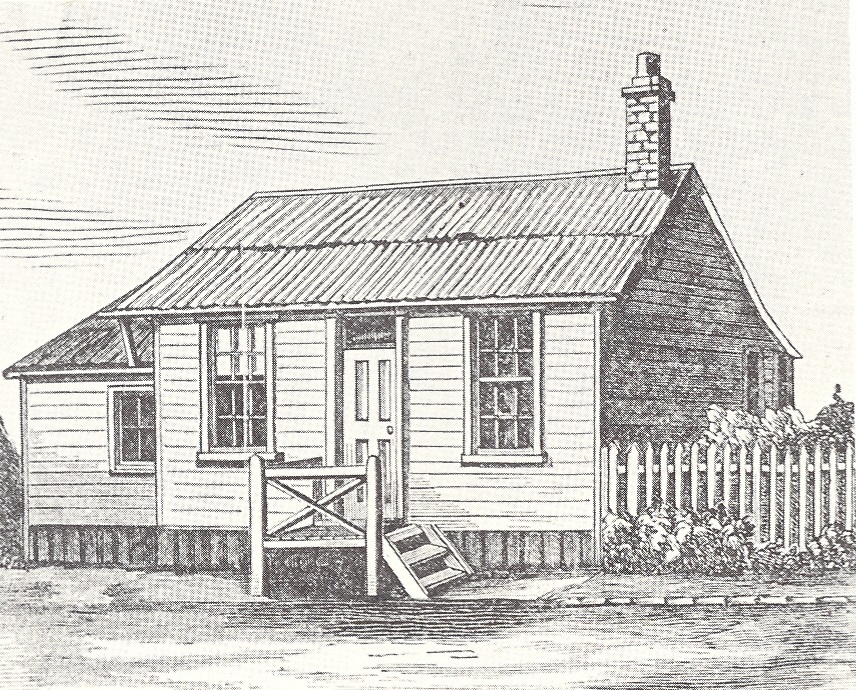 Acacia Cottage

Immerse yourself in the past with a visit to Acacia Cottage. Walking down the road from the Olive Grove, you'll find Acacia Cottage sitting on your left, looking out over the park. Acacia Cottage was originally located in the Auckland CBD and was moved to Cornwall Park in 1920. Did you know Acacia Cottage is one of the oldest timber houses in Tāmaki Makaurau Auckland? It was built in 1841 out of kauri timber and was home to our park's founder Sir John Logan Campbell and his business partner William Brown. As you wander through the rooms, try and imagine what life might have been like back then, what do you think was different? Do you notice what is missing from the cottage that we have in our homes today?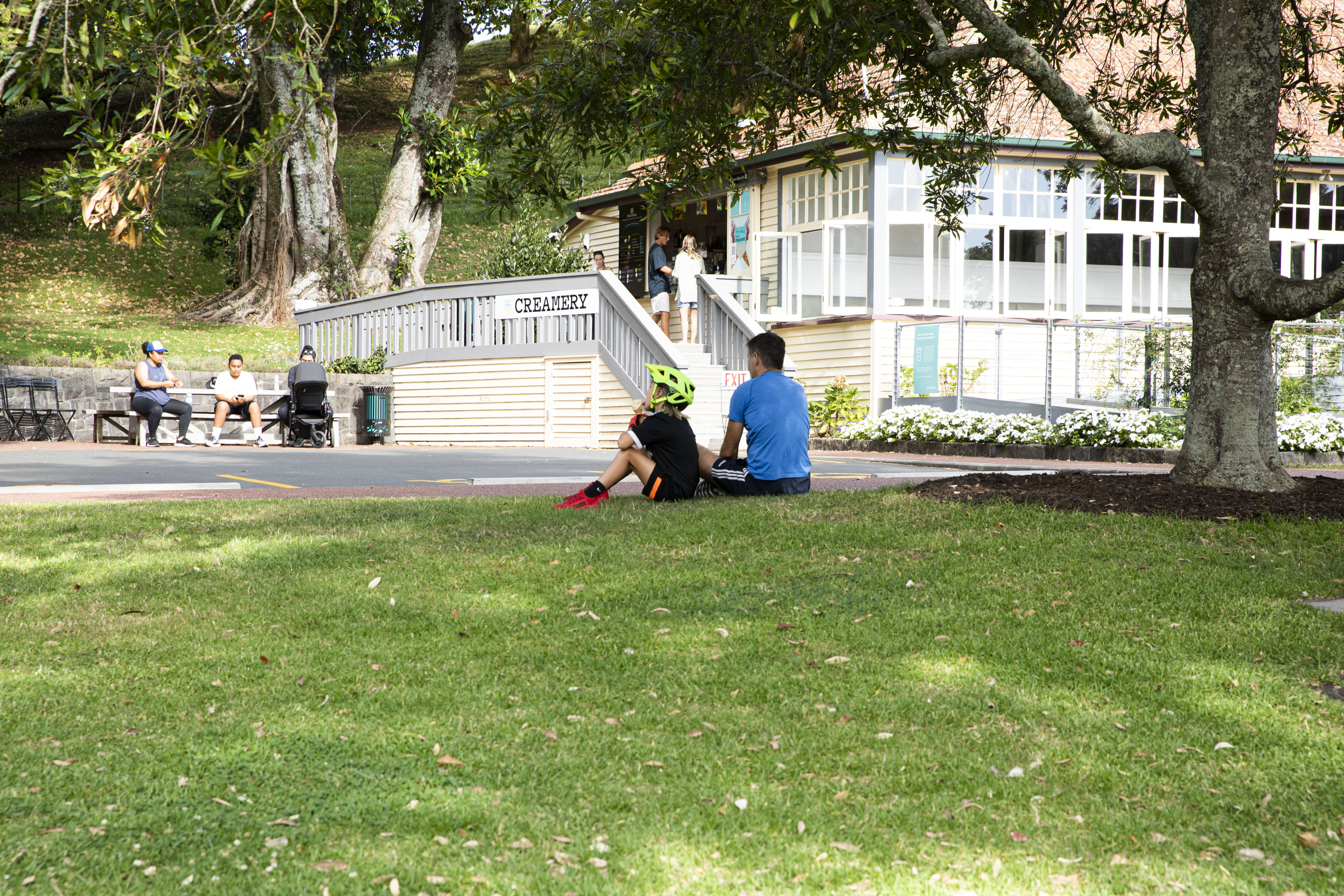 Brekkie at The Bistro
Before you push on with your day, stop for a spot of breakfast at the Cornwall Park Bistro. The Bistro has been one of the most popular spots in Tāmaki Makaurau Auckland for tea and scones since the early 1900s! Check their website for opening hours.  If you're not keen on a big breakfast, you could bring your own snacks or grab something from the Creamery (it's right next to the Bistro and opens around 9am) and have a picnic on the Memorial Steps and take in the view.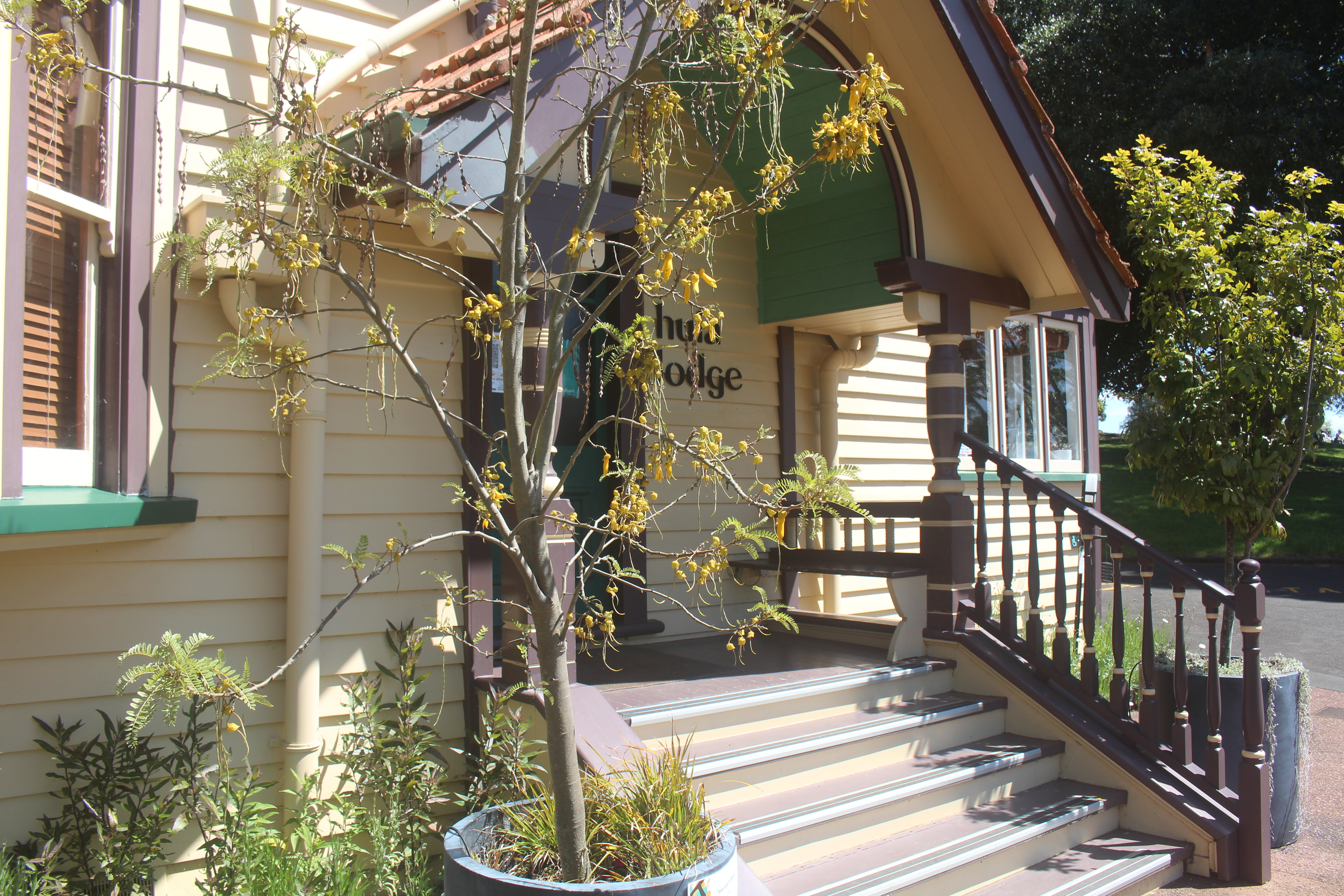 Huia Lodge
Now with a full tummy, take a wander through the Huia Lodge Discovery Hub. Open from 10am - 4pm every day, here you'll find our team waiting to give you their favourite suggestions for exploring the park every day of the year. We have fascinating displays about our heritage, ecology, a lava cave for kids and seasonal exhibitions.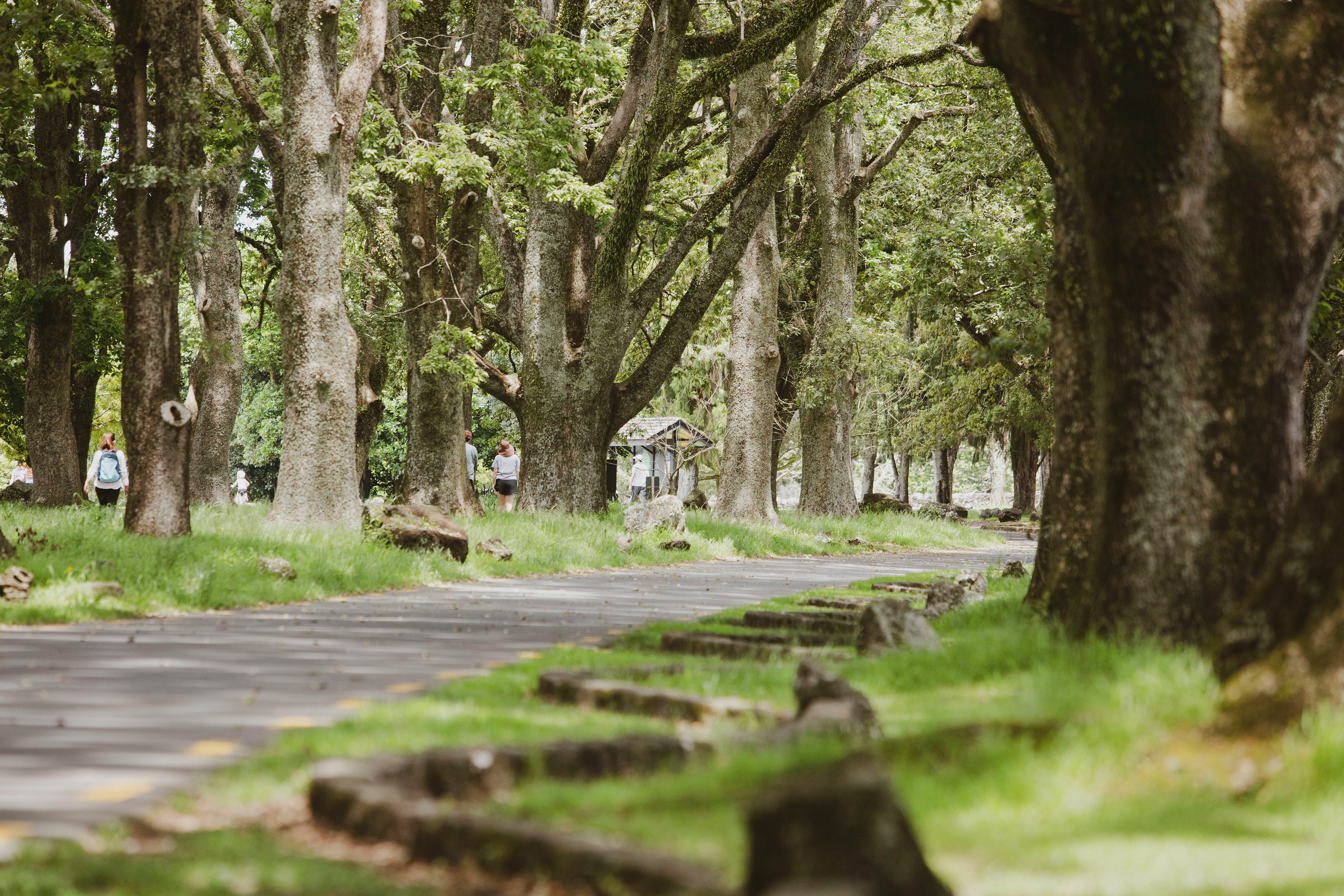 Twin Oak Drive

Leaving the Huia Lodge Discovery Hub, head right down the hill, heading towards Twin Oak Drive, our next location. On the way, you will pass a giant pōhutukawa on your left. This pōhutukawa has been in the park for over 150 years and is definitely a park highlight to see. Next, keep an eye out for a stone staircase on your right. These steps are called the Kauri Steps and will lead you through a kauri grove to Twin Oak Drive. Twin Oak Drive is one of the most iconic places in Cornwall Park, lined with massive oak trees that create a beautiful canopy of leaves and in late winter/early spring the roads are lined with daffodils, snowdrops and bluebells. Head right along Twin Oak Drive keeping your eyes peeled for cows and sheep!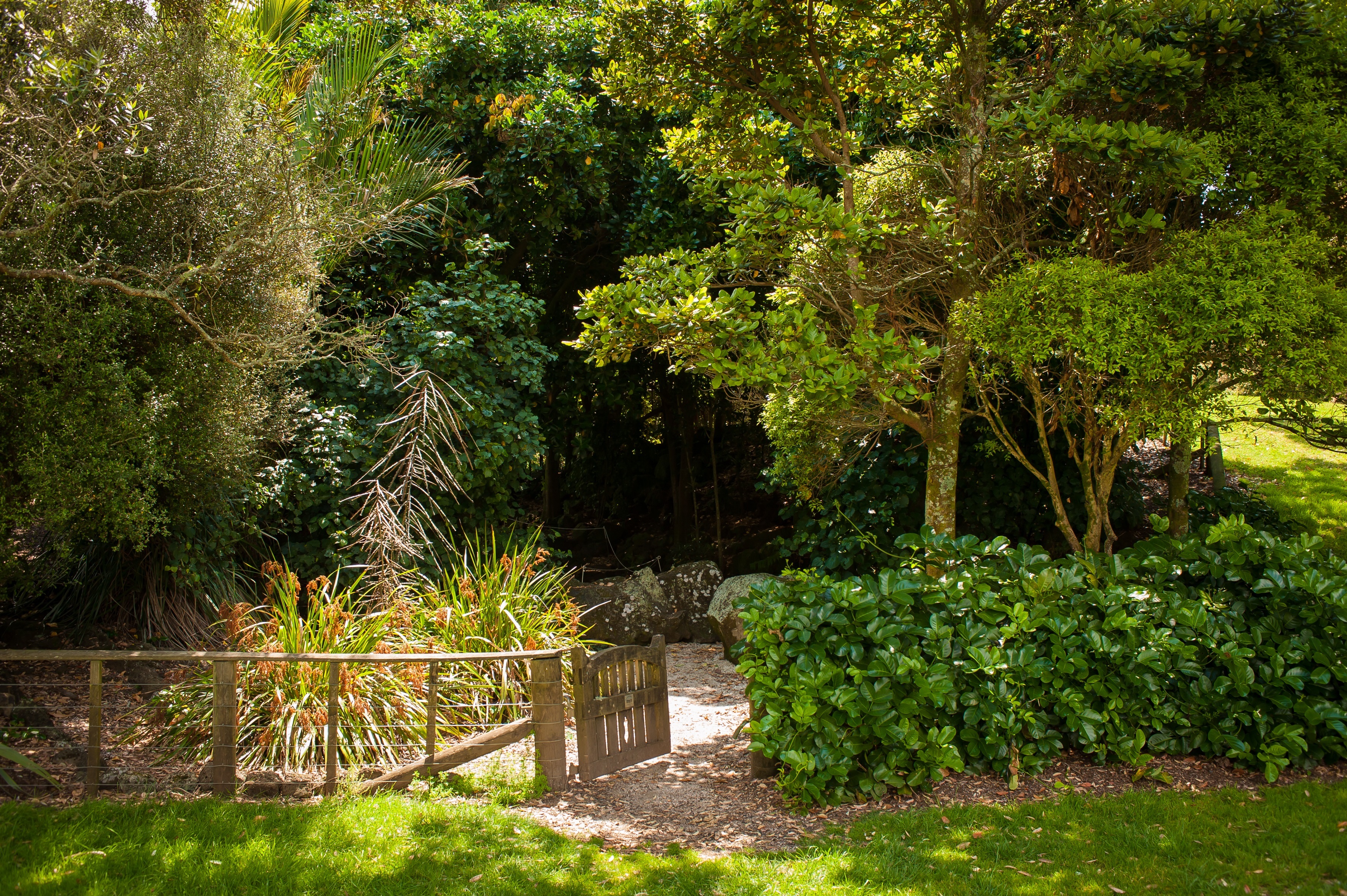 The Grotto
While it can be a bit hard to find, the Grotto is a wonder to behold, filled top to bottom with blooming native plants and volcanic rocks. To find the Grotto, continue walking along Twin Oak Drive until you see a toilet block and car park on your right, the Grotto is in the field to your left, you need to walk across the grass to find it!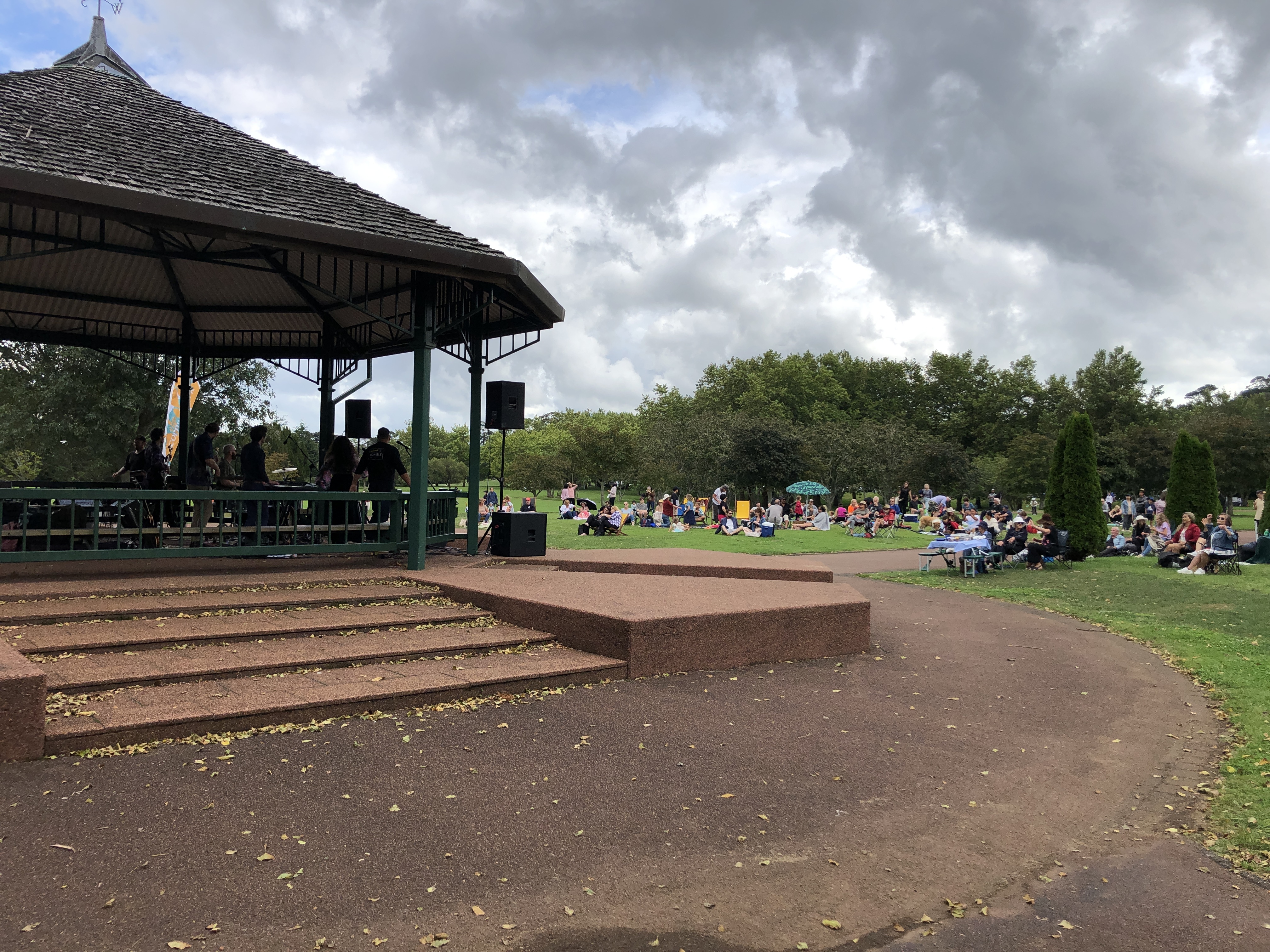 The Eastern Area

We're heading east! Head back along Twin Oak Drive until you meet the Sunken roundabout. If you look down into the sunken roundabout you'll see our Sunken Garden, it is also known as a Circus. From there head right and you are in the eastern area of the park. The eastern area used to be home to a WWII military hospital and a National Women's hospital before it was returned to parkland in the 1980s. Here you can find the Band Rotunda, the Belvedere Steps and the Wisteria Archway (it blooms in October with purple and white spectacular flowers). This area is great for young kids to zoom the paths on bicycles or scooters, have a picnic and walk through a range of native and exotic trees. You might be feeling peckish from all the walking and learning you've done, so why not swing by the Cornwall Park Cafe for lunch?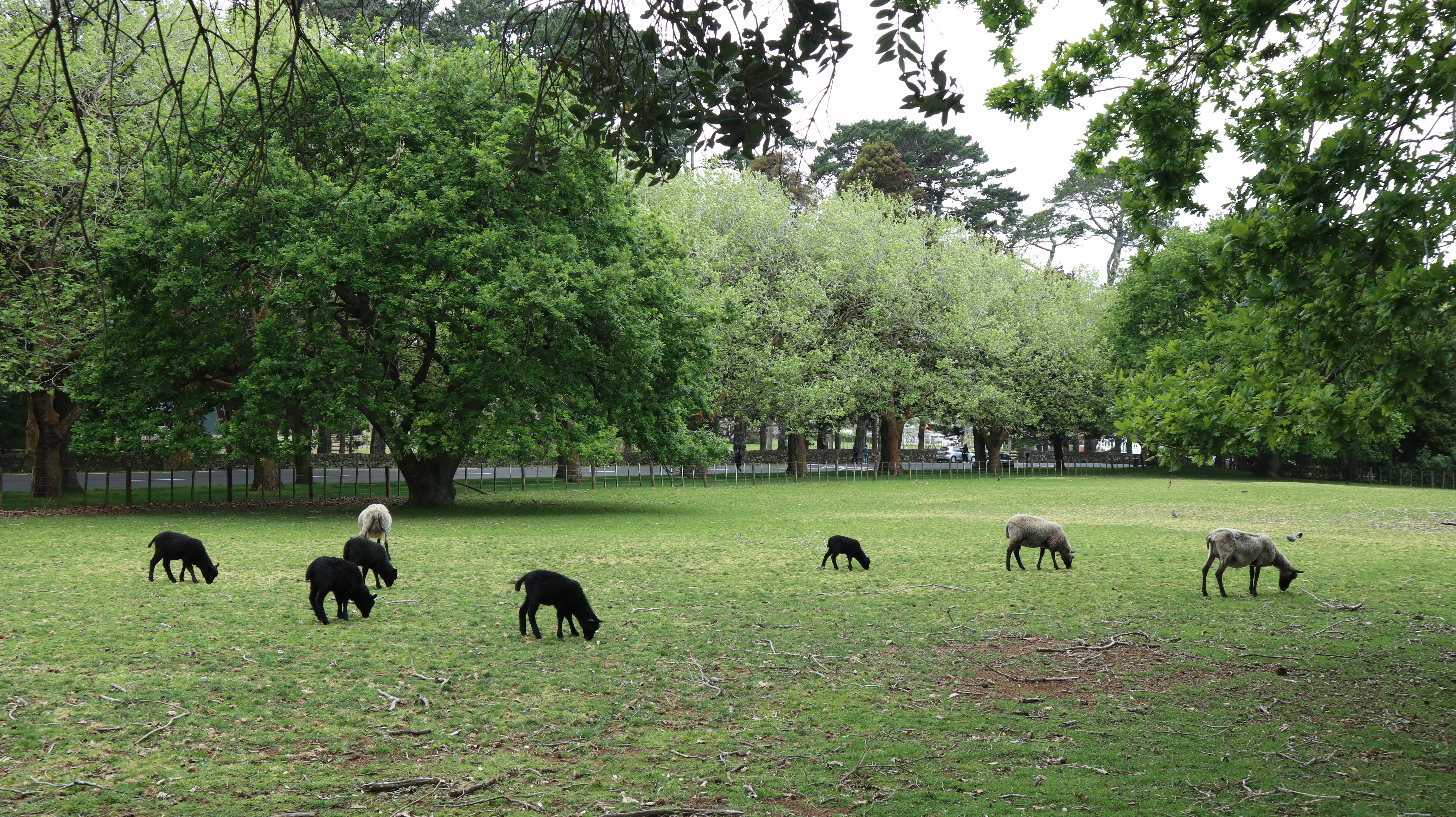 Activities to do along the way
There's loads to do in the park so to get you started, here are some ideas for park fun for everyone!

Sheep counting
Don't fall asleep while counting our sheep but do feel free to explore our urban farm. Most of our paddocks can be explored by the public - stop by Huia Lodge to find out where the sheep and cows are today...

Lava hunt
Did you know Cornwall Park sits on the slopes of an extinct volcano? Well, now you do! Why not try to spot different volcanic features while you traverse the park? These could include rock outcrops and lava flows.

Bird watching
Depending on the time of day you can see a huge variety of birds in Cornwall Park. One of our favourite spots is the memorial steps in the morning, if you keep your eyes peeled you can watch the swallows swooping and diving across the Native Arboretum.