07 Jan
read: remembering the pan-pacific jamboree
The heading picture of this blog shows the stamps made especially for the event - thousands were sold and lines of scouts could be seen coming out of many Auckland post offices! A post office was set up on the grounds of the Jamboree selling souvenir envelopes with profits going towards the Jamboree funds.
This month 63 years ago, after 3 years of planning, the 1959 Pan-Pacific Scout Jamboree of Aroha, "Friendship", was opened in Cornwall Park. This incredible week-long event allowed scouts to meet from all over the world, and involved many activities, exhibitions and displays for the young scouts, including a display and speech by Sir Edmund Hillary, archery, brigade bands and much more! It was a splendid week and Cornwall Park was the perfect hosting site in 1959. Read on to learn more about scouting and this historic Auckland event.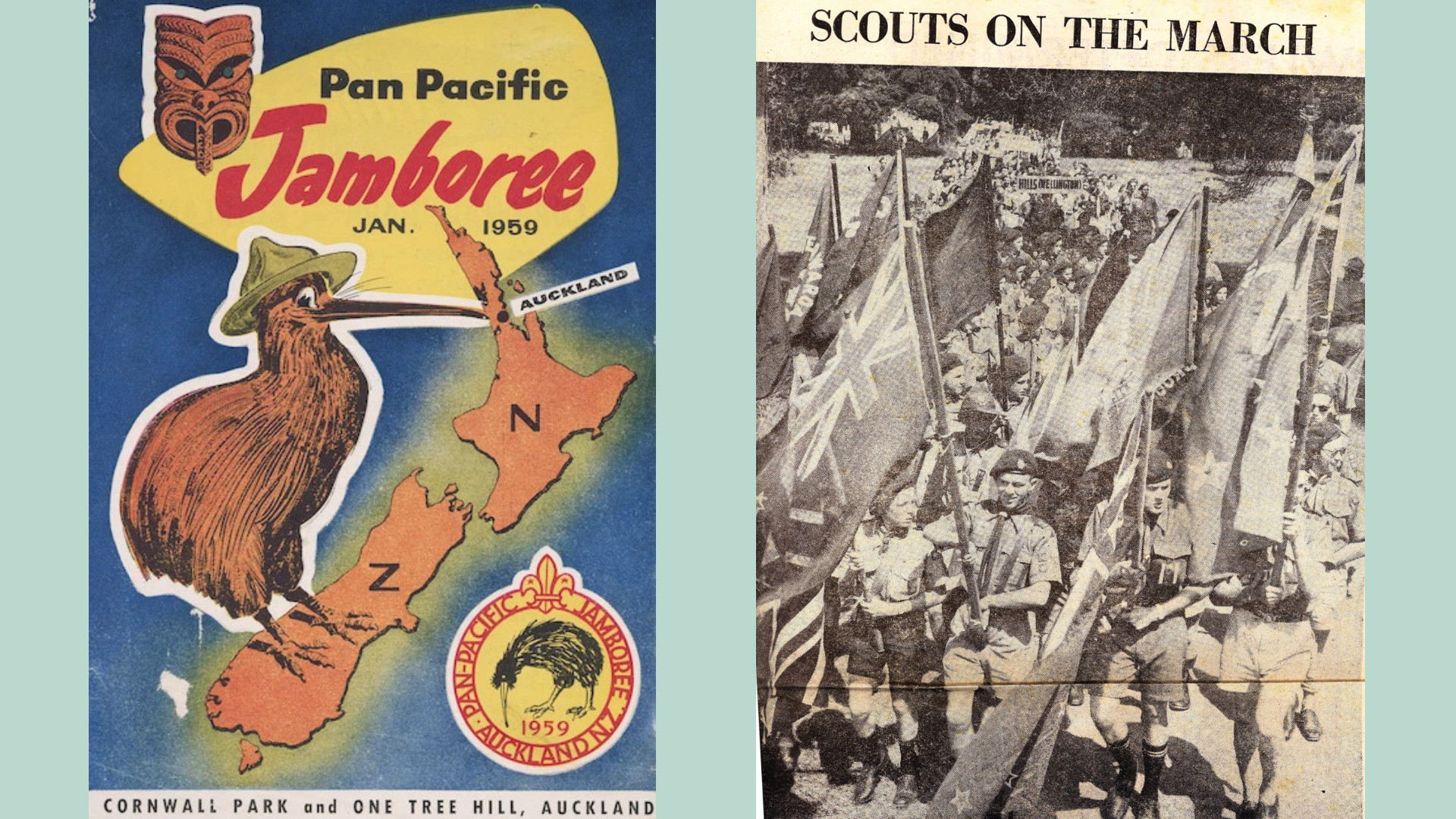 Scouts & Jamborees
Boy scouting was first set up by Robert Stephenson Smyth Baden-Powell in 1908, when he wrote "Scouting for Boys" and opened the Boy Scouts office in London, England. This initiative aimed to provide young people from all backgrounds with opportunities to participate in programmes, events, activities and projects that contribute to their growth as active citizens. Today, the mission of scouting is to contribute to the education of young people, through a value system based on the Scout Promise and Law, to help build a better world where people are self-fulfilled as individuals and play a constructive role in society.
Scout Jamborees are large educational and social events to promote peace and understanding between young scouts. There are many kinds of jamborees that occur each year or so, within a regional, country-based and global scope, and they tend to involve a wide variety of activities and also place great importance on the everyday life and interaction on the campsite.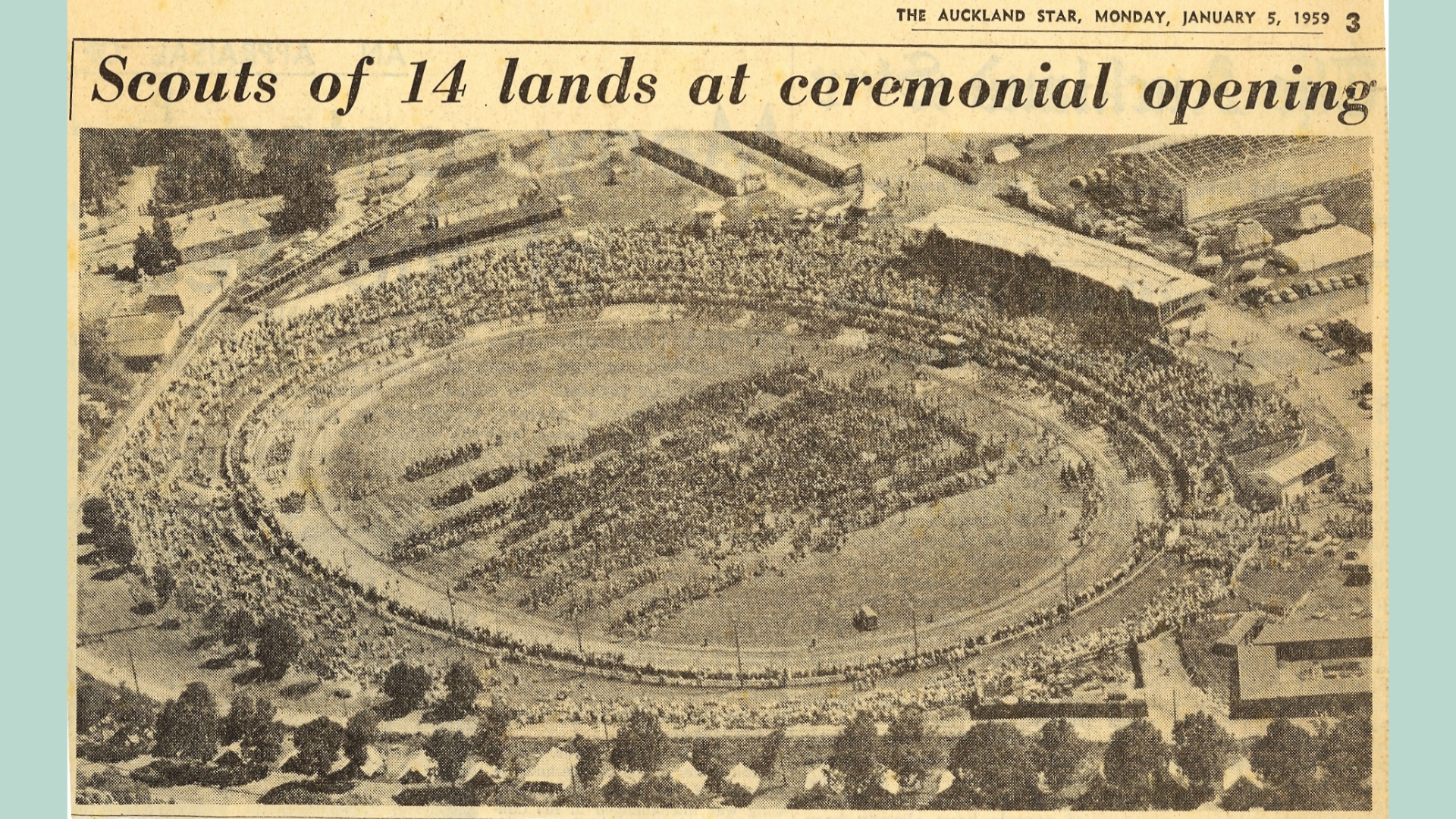 Check out this video that shows a snippet of the action: https://teara.govt.nz/en/video...

Cornwall Park and the Pan-Pacific Jamboree
More than 8,000 Boy Scouts from through-out New Zealand and overseas assembled at Cornwall Park, Auckland making the Jamboree the largest youth gathering ever held in New Zealand to date. Scouts from around 14 countries attended the event, representing the Pacific Islands, United States, Canada and the United Kingdom, and close to 500 boys came across from Australia via both sea and air.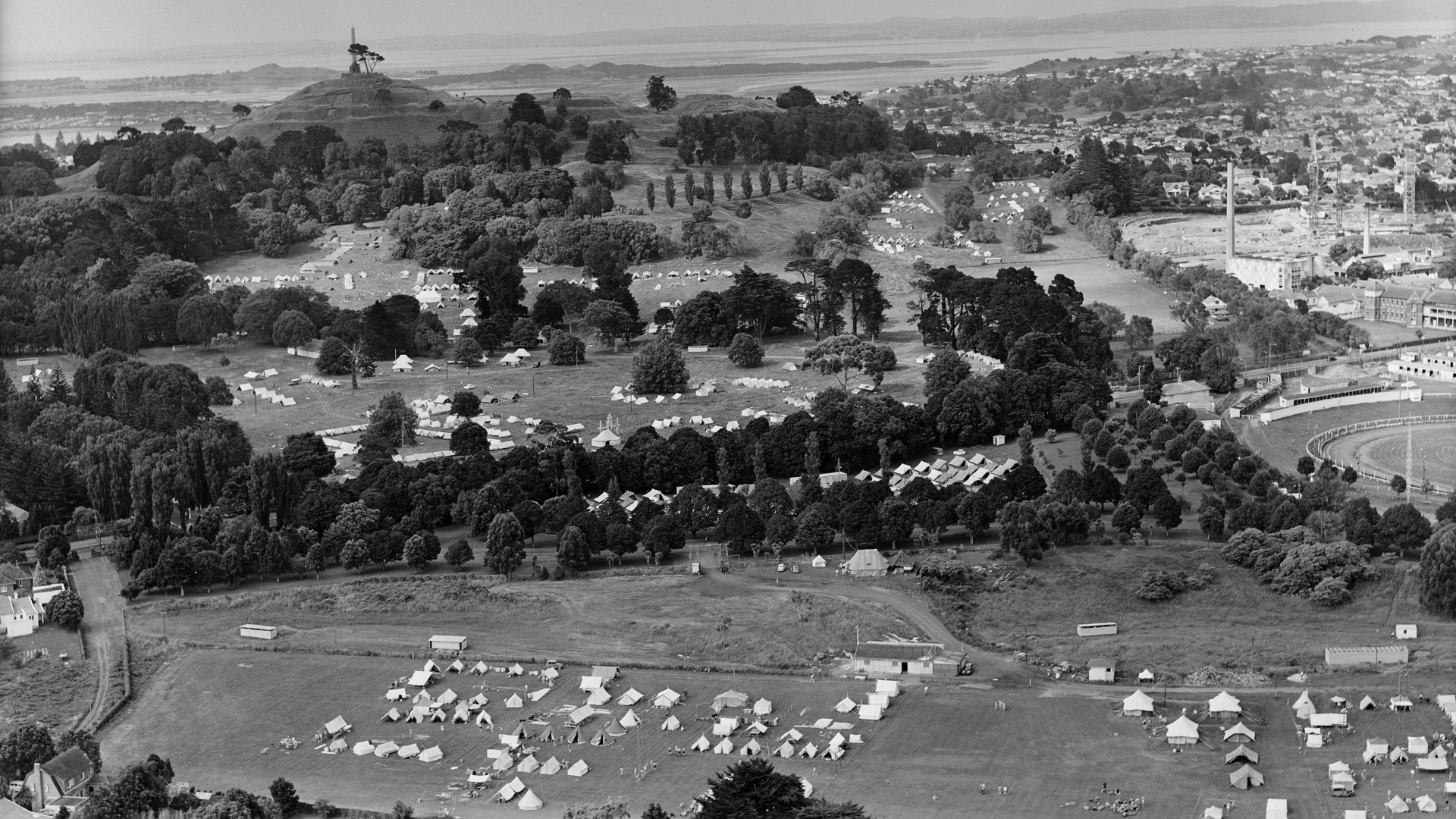 This image from the Alexader Turnbull Library shows the hundreds of tents that filled Cornwall Park and gave shelter to the 8,000 scouts and officers from 15 different countries partaking in the Jamboree. You may notice a bit of tree growth now since then...

Events
The 1959 Jamboree had an event programme packed with educational and fun activities for the boys to partake in, as well as displays that could be accessed throughout the day whenever they had free time. The event programme included a model aeroplane display, a parachute folding display for any keen future aviators, sea scouts displays and a regatta on the Waitemata Harbour, international displays from different scout nationalities, air scout displays, archery practice, and many, many campfires! Throughout the entire event, an undercover area was packed with exhibitions and open from 12pm-10pm to give the scouts plenty of time to partake in them all. Exhibitions included a Māori history display, a .22 gauge rifle range instructed by the NZ Army, the NZ international Grand Prix display of world famous racing cars that were currently competing, RNZAF mobile unit & aeroplane engine assembly display, and the Sir Edmund Hillary Antarctic display with various lectures from Sir Edmund himself!
What a fantastic lineup to enthuse these young men about their future careers and to get them making new friends. The atmosphere within the park must have been constantly bustling and energized, and we are proud to have hosted and facilitated such experiences.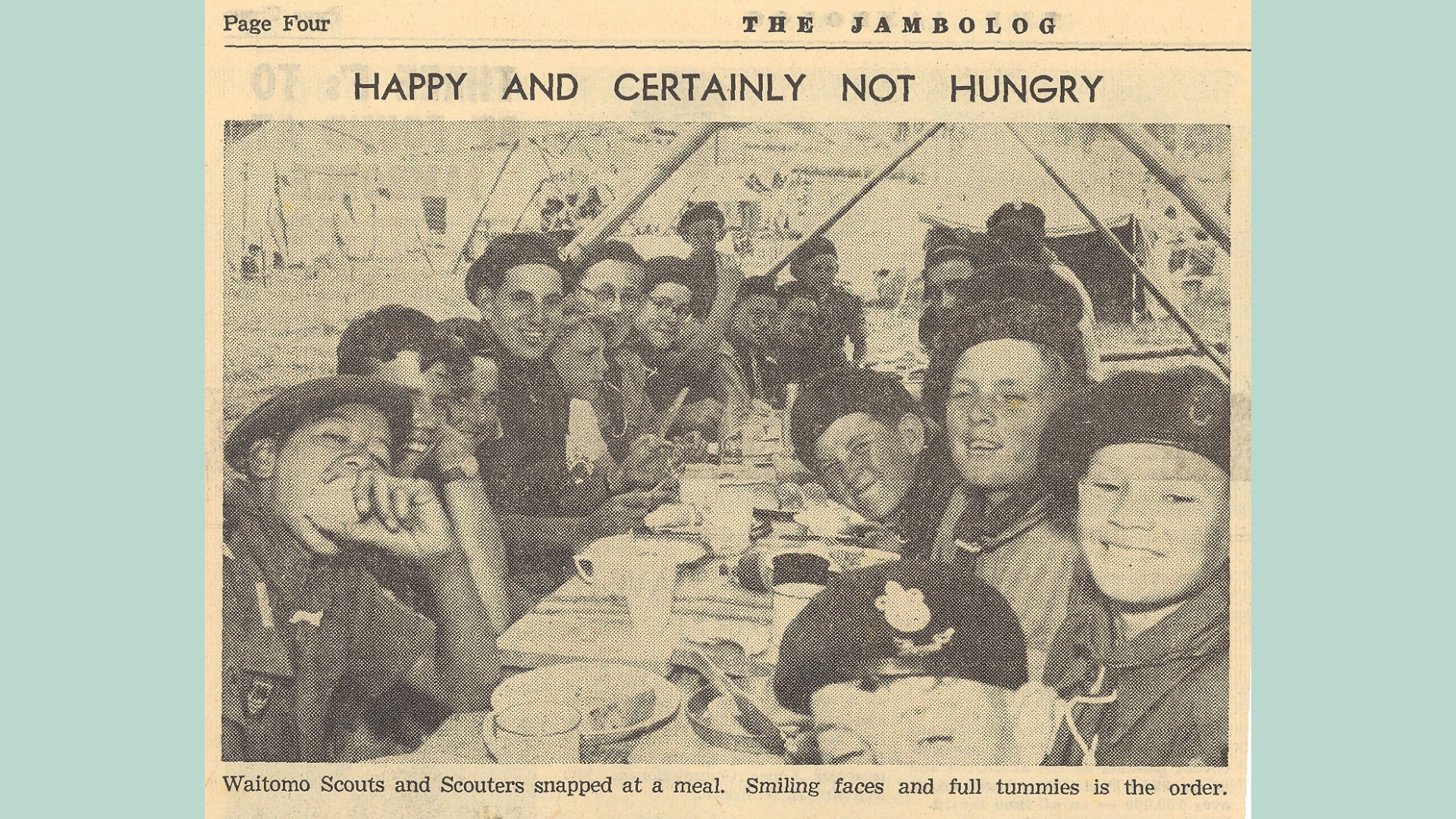 To learn more about Cornwall Park's history, visit: https://cornwallpark.co.nz/his...